HABJ 2016 Student Mentoring Breakfast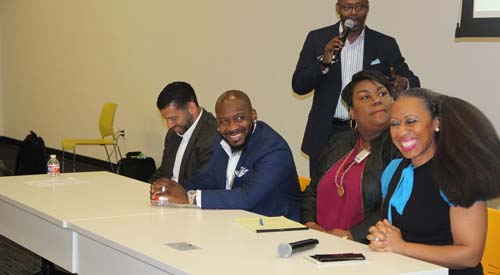 The Houston Association of Black Journalists (HABJ) hosted its annual Student Mentoring Breakfast on Saturday, Dec. 17, at the Houston Chronicle.
The students were able to have a Q & A discussion with leaders in the industry on various topics including: · Still looking for a job or an internship? Landing that first opportunity and what to do with it when you get it · Multimedia skills are vital, but good writing is key: Storytelling in the modern age · The Three Bs of Social Media; Breaking News, Building Your Brand & Being Responsible … #Don'tPressSend · How to drop the mic and succeed in the vast world of communications: You don't have to be a TV star to be a standout
Panelists included KPRC General Manager Jerry Martin, KPRC producer Tera Stidum, CW 39 Producer Ciara Rouege, Al Rucker, owner of Midtown Bail Bonds owner and host of the Al Rucker Live Show, and many others.
Event Photos

View Event Gallery